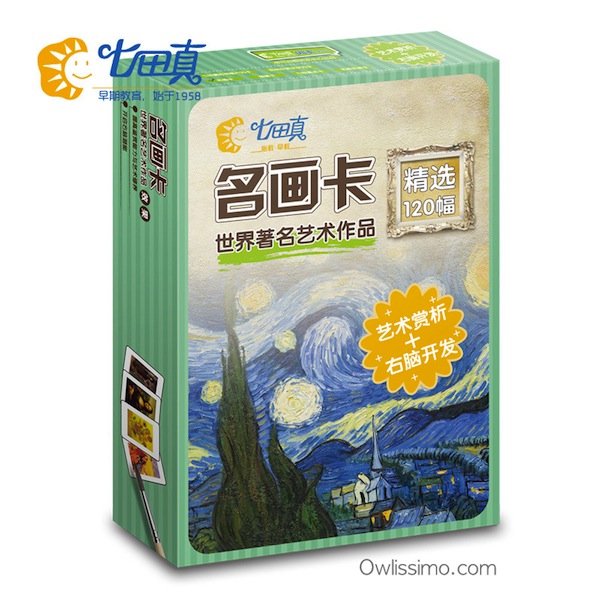 Looking to boost your child's appreciation of aesthetic arts?
What's here for you
Check out Famous Paintings Flash Cards:
Suitable Age Range:
Description:
Size of card: B5 (25.7cm x 18.2cm, larger than A5, smaller than A4) – shows details while remaining easy to flash
Number of cards: 120
Premium quality 350gsm cards
Front: picture of painting

Back:

Title of painting (English & Chinese)
Period (numbers)
Artist (English & Chinese)
Details (Numbers & Chinese)
Published by Si Ke Qi Zhi Research Institute (set up by Shichida Education International to create learning materials for Shichida China)
How to Use:
Flash the cards at 1 to 2 cards per second
After a flash card session, play a few "Which One" games  with the child.
Note: If you need to learn exactly how to use flash cards correctly, you may wish to attend my Home Practice Intensive Workshop
Close Up View (Front of Flash Cards):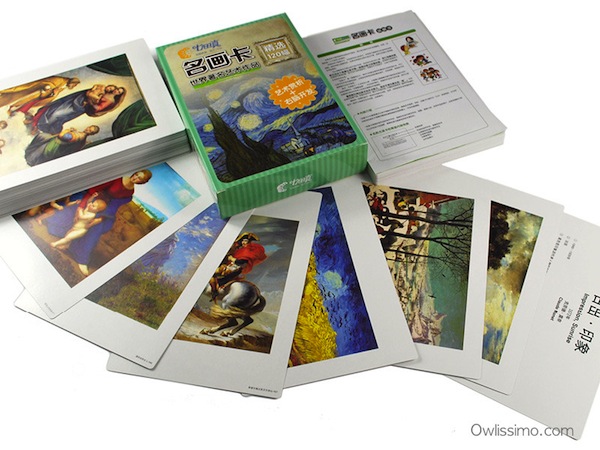 Clear printing with a small serial number at the corner
Close Up View (Back of Flash Cards):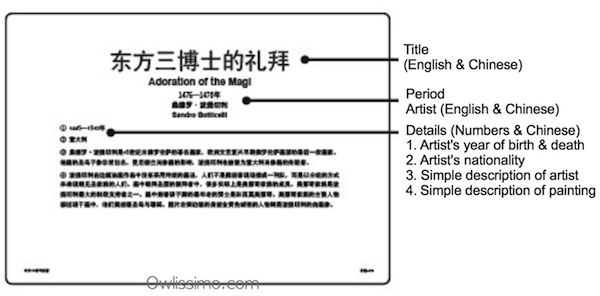 Includes the title of painting (English & Chinese), period (numbers), artist (English & Chinese), and details (numbers & Chinese).
Our feedback
We love learning about famous paintings. I created a DIY set (A4), bought a set from another publisher (A5, half A4) and then this set here (B5, between A4 and A5).
This B5 size is wonderful — shows the picture clear enough while remaining easy to flash. The thick and smooth card stock is of premium quality.
When we're outdoors, 5-year old Vee would point out paintings that he recognises.
We truly enjoy using these flash cards, and hope you and your little one will like them too!
Free Bonuses
English step-by-step guide on how to flash cards and play "Which One" games (downloadable upon purchase)
Free delivery via registered mail to Singapore and West Malaysia
PayPal fees absorbed
Current discounted price: S$70 (whilst stocks last)
Order now
These are ready stocks, to be sent out from Singapore and Malaysia. Very limited number of sets are available.
Orders are fulfilled on a first-paid-first-served basis. Once this batch of stock runs out, new stock for back-orders is expected to arrive in 1 to 2 weeks. To secure your package, click the order button below now.

How to buy
These are the easy steps:
Click the huge "Order Now" button
Enter your name, email and preferred login details. In future, you may login to Owlissimo.com to download your printables.
Click "Buy" (doesn't matter whether you've PayPal)
It's likely that the left hand side shows "current purchase" instead of the details. As long as you use the correct link / button, it should be fine. Otherwise, check your email for order confirmation later on and notify me if needed.
On the right hand side, fill up your PayPal details OR
Click "Pay with my credit or debit card" to extend the tab. Fill up payment details.
Click "Return to Owlissimo"
You'd receive an order confirmation via email. Submit your mailing details. That's it!
Get your Famous Paintings Flash Cards now S$70 (whilst stocks last)

International Orders – CLOSED
We are also able to send to the US, Canada, UK, Australia, Thailand, Vietnam, South Korea, Dubai, etc. via DHL (only about 5 days) or our freight forwarder.
For the best shipping rates, you may consider getting this item with the large flash cards sets here and here.
Click the green button below to get a shipping quote:

—
P.S. These flash cards are for families who believe that art appreciation is important.
P.P.S. After completing your order, click to return to Owlissimo.
—
Need help with your order? Contact me here.