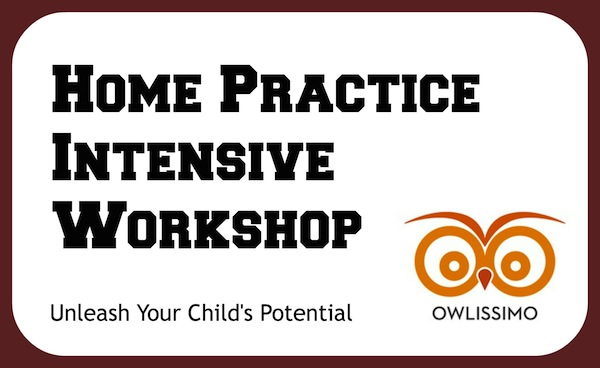 Important update on 21 April 2015: I'm discharged from hospital. The workshop on 12 Apr would be postponed to 24 May. All registered participants would receive an email update. Thank you very much for your understanding. — MieVee
Heard all the benefits of early right brain education and want to know how to practise it at home?
Want to know how to flash cards, how to play memory games, and most importantly,
How to have your child run excitedly to you to do home practice?
Wish to meet a group of mums enthusiastic about home practice?
What's here for you
Here's the Home Practice Intensive Workshop designed with you in mind:
Immerse yourself in a 3-hour content-rich sharing workshop
Delivered personally by MieVee (that's me!) — mother of 3, right brain education practitioner, Montessori Method practitioner, used imaging method to achieve stellar academic records during University
You'll get practical tips and watch my live demonstrations on how to carry out fun home practice that your children will love, how to flash cards quickly and effectively, how to make flash cards, ideas for flashcards, and how to play ESP / HSP,  photographic memory, linking memory games and more!
You'll receive full workshop notes — with activities categorised into age groups, and lots of FAQs answered
You'll also receive a set of my most valuable home practice templates. A sure-fire way to boost effectiveness.
You'll learn how to blend right brain education with the Montessori Method so that your child can do home practice independently
You can make friends with like-minded parents to exchange tips and homemade materials. This is a priceless time saver and helps motivate you to continue with home practice over the next few years.
As a full-time mummy owl to 3 little owls, I have limited time to conduct the live workshops. So once enrolment is full, you'd have to wait till the next batch, which would probably be 3 months away. Once 2 batches of enrolment are full, I'd close the workshop till further notice.
"A lot of information was covered within a short time, so nobody would have felt bored as you moved on to the next topic pretty quickly without lingering on anything specific for too long. You gave enough time for participants to ask our questions (in addition to FAQs) and patiently answered them with practical examples and tips.
Your workshop was extremely useful and I can't thank you enough for guiding so many parents! Will definitely share the great news about the upcoming workshop to my other mummy-friends and help them benefit too." — Mummy D from Singapore, 15 September 2014
"Have recommended Owlissimo to mummies in [my daughter]'s class. I want to promote your amazing efforts to other mummies. Let everyone benefit too…" — Dr V from Malaysia, 18 September 2014
Workshop details
The previous workshops held in 2014 received great response with lots of burning questions answered. This time, the maximum capacity is about 40 participants, for optimal interaction.
Date: 24 May 2015 (Sunday)
Time: 1.30p.m. to 4.30p.m.
Venue: BrillKids Family Malaysia
Publika Shopping Gallery
Lot 2, Level 1
1 Jalan Dutamas 1, Solaris Dutamas
Kuala Lumpur 50480
Malaysia
* Park in red zone near Block C2, take lift to Level 1
Venue tel number: 03-62117228
Regular Price: S$200 / pax
"The contents delivered in the workshop are compact and practical.  They are very well summarized.  It has demystified lots of concern on home schooling!  I really enjoy the live demo section.  Kudos to you for a session well delivered!" — Mummy SC from Singapore, 23 June 2014
Free Bonuses
You'll also receive these printables for free:
Flash cards – Mathematics Random Red Dots (PDF with more than 160 pages, complete with instructions and flash card ideas) – saves you 2 weeks of DIY time
Flash cards – Mathematics Pattern Dots (PDF with more than 100 pages, complete with instructions and flash card ideas) – saves you 1 day of DIY time
Flash cards – Multiplication (PDF with more than 400 pages, complete with instructions) – saves you another 1 week of precious time
Simply print directly onto card stock or print and stick!
How to sign up
These are the easy steps:
Click the huge "Add to Cart" button
Enter your name, email and preferred login details. In future, you may login to Owlissimo.com to download your workshop notes, home practice templates and other printables.
Click "Join" or "Buy"
Choose payment via PayPal or credit / debit card. Complete payment.
Click "Return to Owlissimo"
Sign up for Home Practice Intensive Workshop – English (KL 24 May 2015)

Your spouse: Additional S$20 discount
(Just get another ticket under his / her email address. I'd send you the S$20 rebate later on.)
"MieVee is a great educator who practises the best teaching pedagogy with her 3 loving children.  She unselfishly shares her experience with her ardent fans and fellow readers. The workshop that MieVee conducts exposes us to the most effective teaching principles by combining the right brain approach and Montessori method.  Interacting with MieVee saves me a lot of time in doing all the research as I know she has done all the best studies.  I tap on her knowledge and have truly benefitted from her whilst raising my 3 yo child.  Kudos and sincere thanks from the bottom of my heart, MieVee!"  – Mummy of YJ from Singapore, 27 September 2014
"U r amazing! Thank u MieVee. It was such a great workshop. It had open[ed] our eyes on how to use both montessori and right brain education. Thank you again." — Mummy (Dr.) A from Malaysia, 12 October 2014

—
P.S. This is your chance to watch exactly how to flash cards, play photographic memory games and get answers to your most BURNING questions on home practice.
P.P.S. After completing your order, click to return to Owlissimo.
—
Need help during checkout? Contact me here.