Wish to practice photographic memory skills?
Remember what you see with ease?
What's here for you
Check out Momentary Memory Board:
Suitable Age Range:
For child younger than 3 years old: Show her the boards with tiles, don't allow her to handle the magnetic tiles yet.
From about age 3 onwards: She may use the boards and tiles under supervision.
Description:
Contents:

2 magnetic boards: 12 squares on each
2 x 30 magnetic tiles
12 cards for ideas

Approximate size of tile: 4cm per side
Published by Learning Age International (Original product direct from Taiwan)
How to Use:
These are how we use the boards for home practice:
Photographic memory (single player) — copy what's on the card provided, from memory
Photographic memory — place tiles on consecutive spaces, copy what's on the other player's board, from memory
Space memory — tiles on random spaces, copy what's on the other player's board, from memory
What's missing? — show the other player your board with tiles. Reverse the board, remove 1-2 tiles. Let him guess the missing picture(s).
Senses play — use the tiles to play senses games. For e.g. guess what's on the other player's board
For a young baby, this is how we play:
Pre-arrange a few tiles on the boards, with perhaps 1 subtle difference between the boards.
Show him 1 board for a second (Remember the picture combination.)
Reverse the boards, shuffle them behind my back
Show him the 2 boards and ask "Which one did you see just now?"
Let his eyes focus on his choice, or he may point.
Then reveal the answer and say, "You saw this just now."
Be creative and make up your own games!
Close Up View:
Boards, tiles and cards…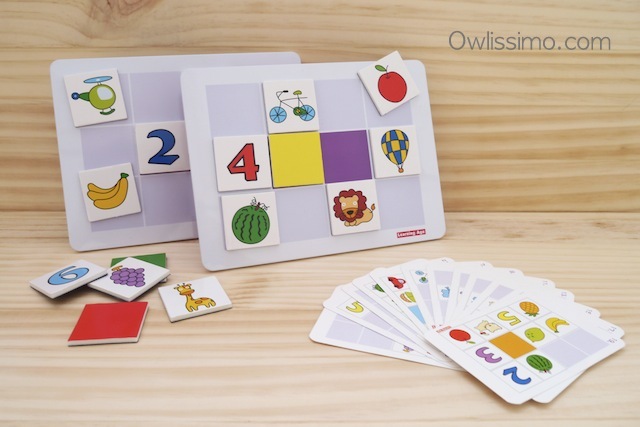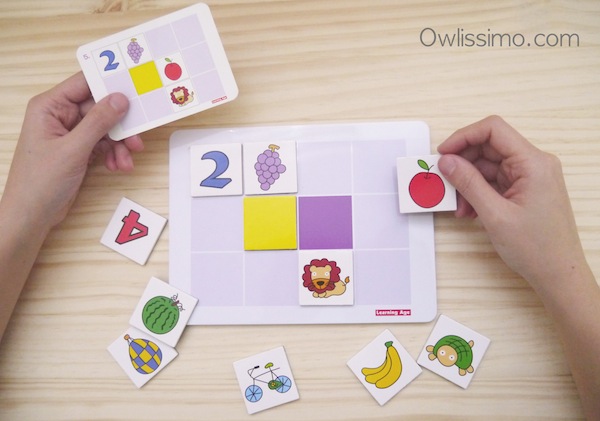 Our feedback
I love using the memory boards during home practice. The magnetic boards are a convenient way to create a combination of pictures together.
It's also fun to play as a family. Even daddy had fun with us at times too!
The Momentary Memory Board is a great tool for right brain home practice.
Free Bonuses
Free delivery via registered mail to Singapore and West Malaysia
PayPal / credit cards fees absorbed
Current discounted price: S$37 (whilst stocks last)
Order now
These are ready stocks, to be sent out from Singapore and Malaysia. Very limited number of sets are available.
(Update on 17 May 2015: Stocks in Singapore & Malaysia sold out.)
Orders are fulfilled on a first-paid-first-served basis. Once this batch of stock runs out, I may not replenish it if the latest cost price is too high. To secure your set, click the order button below now.

How to buy
These are the easy steps:
Click the huge "Order Now" button
Enter your name, email and preferred login details. In future, you may login to Owlissimo.com to download your printables.
Click "Buy" (doesn't matter whether you've PayPal)
Choose payment via PayPal or credit / debit card. Complete payment.
Click "Return to Owlissimo"
Get your Momentary Memory Board now

Pre-Order
From Singapore: We're currently unable to send directly to a Singapore address. To get around this, many parents have gotten their materials by providing their friend's address & contact number from Malaysia Johor, Malacca, KL, Ipoh, Penang, etc. (Many Malaysians who work in Singapore travel back to their hometown often. Just ask around.)
From West Malaysia: Please order 3 items and above for an affordable shipping top-up (estimated at S$5 per item). These items are wonderful birthday presents for friends' / relatives' children.
From other countries: Please order 3 items and above for an affordable shipping top-up.
Click the green button below to get a shipping quote:

—
Testimonial
"You have been such a great blessing to the mummies who are interested in right-brain training. Thank you for all your sharing. Looking forward to more great things to come."
—
P.S. This Block Builder is great for both free and structured play to help enhance spatial ability.
P.P.S. After completing your order, click to return to Owlissimo.
—
Need help with your order? Contact me here.