Have you attended Owlissimo's workshops & would like personalised guidance?
Want to know how to teach your child math? Especially Singapore math model method?
Boost his memory skills?
Optimise your schedule to do home practice / home learning?
You're at the right place.
Currently, there are many tutors for children. How about parents?
We choose to work directly with parents because when you learn teaching skills, you get to keep the skills for life, and can guide your child regularly.
This often saves you much time and money.
We believe that as parents, you are your child's first and best teachers.
Video call consultations are designed for parents like you, who need personalised guidance to boost your child's learning.
About Your Facilitator – Carol Wong
Carol's passion for learning and teaching has enabled her to excel in school and at work. She graduated from Nanyang Technological University in Singapore, majoring in Accountancy, as the top graduate who received 9 awards including the Lee Kuan Yew Gold Medal, PricewaterhouseCoopers Gold Medal and KPMG Gold Medal.
In 2005, she was the top student in the Chartered Financial Consultant (ChFC) programme in Singapore. In her former career, she specialised in personal financial planning and was a lecturer for the ChFC programme.
In 2008, she left the corporate world and moved to Kuala Lumpur, Malaysia, to raise her three children. After completing a Montessori certificate programme, she homeschooled her children during kindergarten using the "right brain" education method and the Montessori method. Today, she coaches her children towards excellence in character, academics, music, sports and beyond.
Her special interests are young talent development, and the teaching and learning of Mathematics. As a mother and educator, she has designed workshops and learning materials to help thousands of busy parents worldwide teach their children effectively and efficiently. In 2019, she became a Certified Accelerated Learning Practitioner.
Areas of specialisation:
Mathematics – Singapore Math, Montessori Math, Math competitions / Olympiads
Boosting memory skills
Accelerated learning
Workshops for parents
Over the past years, Carol has guided parents from Singapore, Malaysia, Australia, Hong Kong, India and more.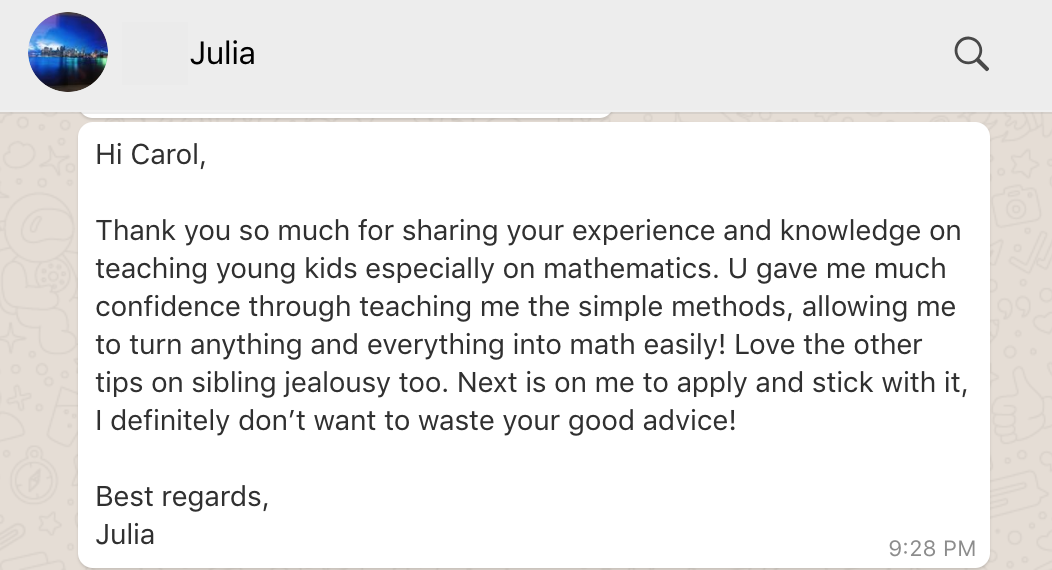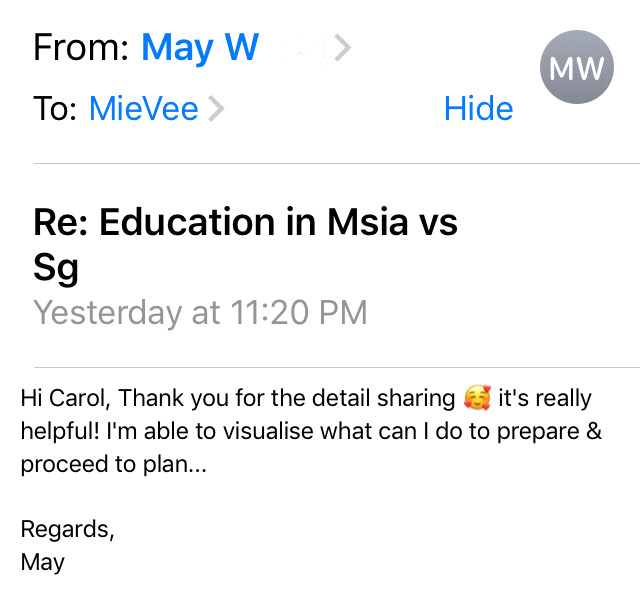 What happens during a video call?
Before the call, you'll complete some questions to uncover the areas of learning that you wish to guide your child on.
These may be covered in a video call:
Discussion of your child's learning progress
Discussion of your challenges in teaching and devising solutions to overcome them
Demonstrations of learning materials to use & where to get them
Demonstrations of how to present learning materials
Ideas on how to boost your child's learning
How to book a video call?
Click "Add to Cart" and proceed to checkout
Return to this page. Select your preferred time slot below.
As video meeting slots are very limited, book yours now!
See you over video!