Heard all the benefits of early "right brain" education and want to learn how to practise it at home?
Overwhelmed by all the information online and don't know where to start?
Want to get started on home practice in the most efficient and effective way?
Want to know how to flash cards, how to play memory games, and most importantly,
How to have your child run excitedly to you to do home practice?
Wish to have support for your burning questions on home practice?
Want to learn from the comfort of your home?
What's here for you
Here's the Home Practice eWorkshop designed with you in mind:
Immerse yourself in a workshop video series: 2 hours of rich content
Delivered by Carol Wong (aka MieVee) — mother of 3, preschool homeschooler, Montessori method practitioner
You'll get practical tips and watch her demonstrations on

how to carry out fun home practice that your children will love
how to flash cards smoothly and effectively
how to make flash cards
ideas for flashcards
how to play senses (intuition / ESP / HSP),  photographic memory, linking memory games and more!

You'll be able to replay the videos over and over again at your own time until you get the "right brain" method right! We know you're a busy parent.
You'll learn how to blend "right brain" education with the Montessori method so that your child can do home practice independently
You'll receive full workshop notes — with activities categorised into age groups, and lots of FAQs answered
You'll also receive a set of valuable home practice templates. A sure-fire way to boost your effectiveness and save your precious time.
You'll be invited to an exclusive Live Q&A Video Call.
You'll get exclusive chat support for your burning questions on home practice.
Read on for more details…
About Carol Wong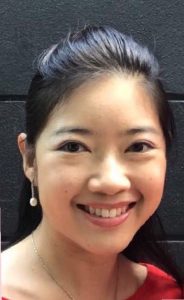 Founder – Owlissimo.com & MummysHomeschool.com
Carol's passion for learning and teaching has enabled her to excel in school and at work. She graduated from Nanyang Technological University in Singapore, majoring in Accountancy, as the top graduate who received 9 awards including the Lee Kuan Yew Gold Medal, PricewaterhouseCoopers Gold Medal and KPMG Gold Medal.
In 2005, she was the top student in the Chartered Financial Consultant (ChFC) programme in Singapore. In her former career, she specialised in personal financial planning and was a lecturer for the ChFC programme.
In 2008, she left the corporate world and moved to Kuala Lumpur, Malaysia, to raise her three children. After completing a Montessori certificate programme, she homeschooled her children during kindergarten using the "right brain" education method and the Montessori method. Today, she coaches her children towards excellence in character, academics, music, sports and beyond.
Her special interests are young talent development, and the teaching and learning of Mathematics. As a mother and educator, she has designed workshops and learning materials to help thousands of busy parents worldwide teach their children effectively and efficiently. In 2019, she became a Certified Accelerated Learning Practitioner. Then in 2020, she became a Certified Virtual Learning Facilitator.
Reviews
As a homeschooling / home learning mummy to 3 active boys, Carol has limited time to provide support. So to support worldwide eWorkshop participants, enrolment intake would be limited.
Once enrolment is full, you'd have to wait till the next batch, which would probably be 3 to 6 months away.

Many happy parents have sent their rave reviews and testimonials.
Here's one from Mummy C.P.: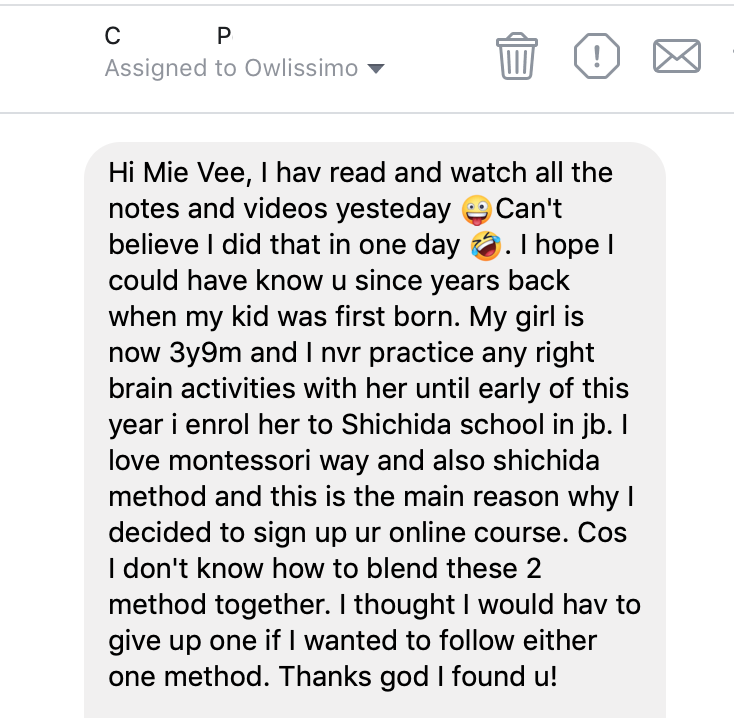 Here's another one from Mummy T.F.: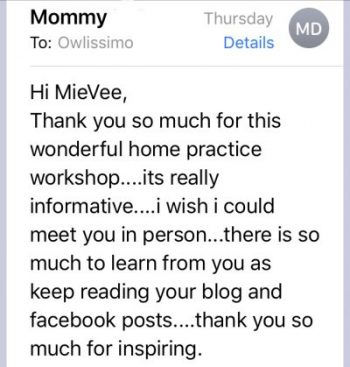 "Thank you for extensive answers! The course has improved the time [I] spend with my two year old son. It is great to bond and expand his skill [at] the same time. After buying the math flashcards and printing them one year ago I did not manage [to] start using them. The eWorkshop was essential for getting the information to get started. Thank you, Carol" – RD from Netherlands
"A lot of information was covered within a short time, so nobody would have felt bored as you moved on to the next topic pretty quickly without lingering on anything specific for too long. You gave enough time for participants to ask our questions (in addition to FAQs) and patiently answered them with practical examples and tips. Your workshop was extremely useful and I can't thank you enough for guiding so many parents! Will definitely share the great news about the upcoming workshop to my other mummy-friends and help them benefit too." — Mummy D from Singapore
"Have recommended Owlissimo to mummies in [my daughter]'s class. I want to promote your amazing efforts to other mummies. Let everyone benefit too…" — Dr V from Malaysia
eWorkshop details
This eWorkshop includes videos from a live Singapore workshop session, where many burning questions were answered. Parents from all over the world have since signed up for this eWorkshop.
Who this is suitable for:
If you wish to grasp early "right brain" education method effectively in the shortest time
If you are a parent or caregiver taking care of children aged 0 to 6 years old
If you run a preschool or enrichment centre and would like to successfully incorporate "right brain" method into your curriculum
If you reside out of Singapore & Kuala Lumpur and have been unable to attend our live workshops
If you've no babysitting help and have been unable to attend our live workshops
1. Video lessons
After enrolment, you'll receive a log-in to view the videos at your own pace. You may replay them as many times as you need to develop mastery.
2. Parent's Guide & printables
You'll receive access to download your Parent's Guide, flashcards, game cards and templates that will save you time and money.
3. Live Q&A video call
You'll be invited to an exclusive 1-to-1 20-minute video call with Carol for more personalised guidance and teaching tips.
This is also where you'll receive the most up-to-date research-based home practice tips for deeper learning.
4. 1-to-1 chat support
For the best support as you learn, you'll be able to contact Carol personally via the Telegram messaging app.
You'll receive detailed personalised replies to your burning questions.
You simply need to finish watching the videos, read the Parent's Guide and try out the activities beforehand. Carol is very committed to your success and spends a long time crafting each personalised reply.
Every enrolment batch is limited to 15 participants so that each participant gets personalised guidance.
Carol will guide you to implement this learning method successfully and continue supporting you for up to 1 month upon enrolment.
Best value
Value of workshop videos & Parent's Guide: S$80
Value of live video call: S$70
Value of 1-month chat support: S$140
Total Value: S$290
Limited-time offer: S$120 (~US$90)
You save 59%!
"The contents delivered in the workshop are compact and practical.  They are very well summarized.  It has demystified lots of concern on homeschooling!  I really enjoy the live demo section.  Kudos to you for a session well delivered!" — Mummy SC from Singapore
"I'm going through the material provided, it's very precise. See you" — Mummy P from India
Free Bonuses (Part 1)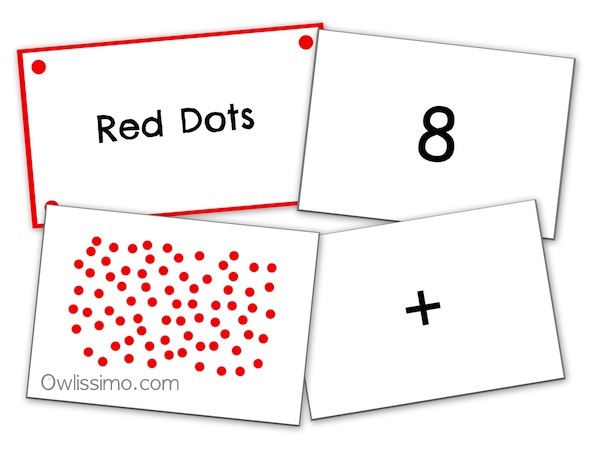 You'll also receive these printables for free:
Flash cards – Mathematics Random Red Dots (PDF with more than 160 pages, complete with instructions and flash card ideas) – saves you 2 weeks of DIY time
Flash cards – Mathematics Pattern Dots (PDF with more than 100 pages, complete with instructions and flash card ideas) – saves you 1 day of DIY time
Flash cards – Addition (PDF with more than 200 pages, complete with instructions) – saves you another 1 week of precious time
Simply print directly onto card stock or print and stick!
Free Bonuses (Part 2)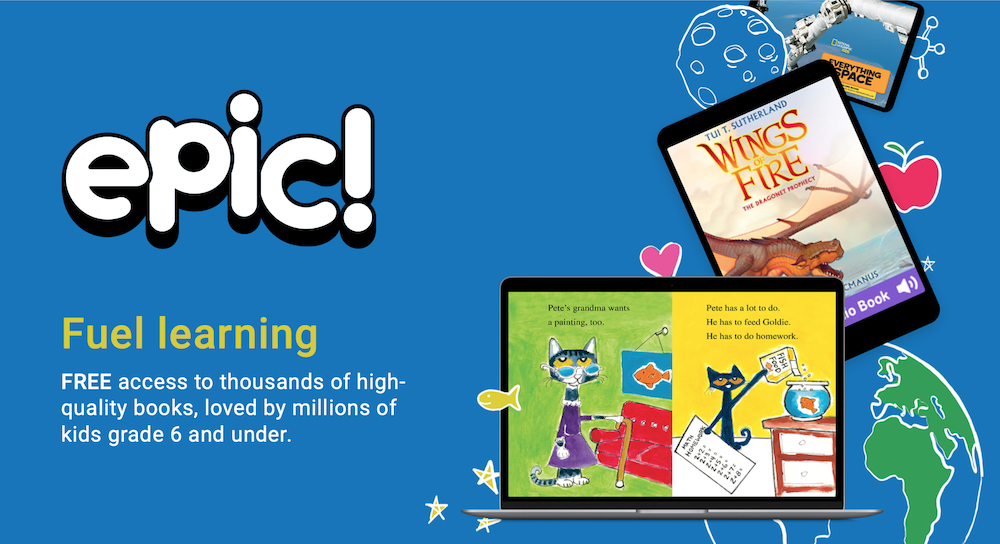 Reading regularly to your child is our number one recommended activity.
It's simple and very effective for brain development.
Even 5 minutes a day is a great start.
You'll also get a free Epic Basic account when you enrol in this eWorkshop.
Epic is the leading digital reading platform that safely fuels curiosity and reading confidence for kids.
You can access thousands of books online, which is especially useful during the Covid-19 pandemic, when you may not be able to visit a library or bookstore.
Free Bonuses (Part 3)
Owlissimo has also started a sister arm, owl future, to help combat climate change.
We aim to protect our children's future.
So from now, you'll also receive a free premium insulated water bottle*. (Free shipping to Singapore & Malaysia)
Staying hydrated helps our brains to function optimally too!
How to sign up
These are the easy steps:
Click the "Add to Cart" button above
Click "Proceed to checkout"
Complete your billing details
Pay with PayPal or your debit / credit card
You'll receive an order confirmation
You'll be able to log in immediately to access your printables.
Check your email inbox (and junk / spam folder) for details on how to access the workshop videos.
>>> Click "Add to cart" above
" I am from California, am glad to sign up for your e-workshop, it is very informative and helpful. How I wish I will be able to attend your home practice intensive & intermediate workshops in KL or Singapore"  – Mummy C from California
"[Carol] is a great educator who practises the best teaching pedagogy with her 3 loving children.  She unselfishly shares her experience with her ardent fans and fellow readers. The workshop that [Carol] conducts exposes us to the most effective teaching principles by combining the right brain approach and Montessori method.  Interacting with [Carol] saves me a lot of time in doing all the research as I know she has done all the best studies.  I tap on her knowledge and have truly benefitted from her whilst raising my 3 yo child.  Kudos and sincere thanks from the bottom of my heart, [Carol]!"  – Mummy of YJ from Singapore
"U r amazing! Thank u [Carol]. It was such a great workshop. It had open[ed] our eyes on how to use both montessori and right brain education. Thank you again." — Mummy (Dr.) A from Malaysia
>>> Click "Add to cart" above
—
P.S. This is your chance to watch exactly how to flash cards, play photographic memory games and get personalised guidance on how to blend "right brain" education and Montessori methods.