Help Your Child
Develop a strong visual memory of fractions bar models
Understand patterns, equivalents and relationships between parts of a whole
Discover self-directed learning and problem-solving skills
Advance rapidly through the fundamentals of fractions
Fractions: Building Blocks of Math
Solve fraction sums fast with Fraction Bar Model Cards for hands-on, visual math learning.
Model Fractions© is Montessori-based and aligned with the Maths Bar Model Method taught in Singapore and around the world, to help children discover fractions operations independently and easily.
Drawing on the power of visualising mathematical concepts before solving sums, this Concrete, Pictorial, Abstract (CPA) approach is especially beneficial for young learners.
Children in Singapore are first introduced to Fractions in Primary 2 (7 – 8 years) and by the time they're sitting for the PSLE or Primary School Leaving Exams at Primary 6 (11 – 12 years), close to 50% of the Maths examination comprises questions requiring Fractions, Ratios and Percentage operations.
An intuitive understanding of Fractions as 'Parts of a Whole' is therefore, an extremely important foundation.
Designed for Impact
1. Open-Ended Maths Investigation
Model Fractions© was created to strike a balance between open-ended, child-led learning and helping kids progress through primary school mathematics with confidence (especially in Singapore).
Model Fractions will follow your child through the first stages of exploring fraction operations, right up to solving complex word problems found in the PSLE Maths Exam.
2. Universal & Democratic Design
Model Fractions© is designed with a horizontal layout for two main reasons.
First, it helps students visualize bar models more clearly and is especially effective for young learners who need pictorial representations of ideas and concepts.
Secondly, a horizontal format makes the cards equally accessible to both right-handed and left-handed users. The cards become a perfect template guide when learning to draw fraction bar models, whether you're drawing from left to right or vice versa.
3. Use as Bar Model Template
The rectangle shape of Model Fractions© cards creates a strong visual reference to Maths Bar Models.
This reinforces your child's familiarity with handling and manipulating math models in a rectangular bar shape.
It's especially effective as a template guide for students starting to draw fractions models in school.
For example, draw a model for 4/4 by dividing the whole rectangle in ½, then divide each resulting rectangle in ½ again.
4. Color Codes
Lots of research effort went into selecting colors for each Model Fractions© card.
Color Theory is a beautiful cross-section of visual art and science; each color conveys a message and has an effect on the person seeing it.
Taking inspiration from open-ended play materials, the designers put together a palette for Model Fractions that is colorful but not complicated and they incorporated subtle color-family codes to help children internalize the relationships between equivalents.
1 Whole: a soothing pastel green. Seeing this first card sets a tone of calm. To indicate the unique-ness of 1 Whole, no other card has a green shade
2/2, 4/4, 8/8: Shows shades from the Red family, with color intensity increasing as the denominators get bigger, Red is also often referred to as the first primary color
3/3, 6/6, 9/9, 12/12: This is the Blue family, the 'second' primary colour. Color intensity increases, and 12/12 shows the deepest shade of our entire set – Deep Purple
5/5, 10/10: The Yellow group
7/7, 11/11: In shades of Grey, these fractions are un-equivalent to other fractions in the first set of 12 essential fractions
5. Font for All Children
Model Fractions© features the font OpenDyslexic, which increases readability for children with dyslexia.
Letters have heavy-weighted bottoms to indicate the part of the letter which is down, making character recognition faster for dyslexic individuals.
To prevent letter flipping and swapping, each letter also features a unique shape.
6. Child-Friendly Construction
An embossed fold-line makes it easy to flip-up, fold-down, or tuck under each fraction section, and two ring binders allow for complete flexibility in removing, arranging and flipping the cards.
Two-sided printing features numerals on one side (1/5) and words on the other side (one fifth).
Each Model Fractions set contains two cards that show 1 Whole. This is great when explaining the conversion of improper fractions to mixed numbers and vice versa.
There are no tiny, loose fraction tiles or wood block pieces that may go missing.
7. Resistant Material
To resist wear-and-tear and fingerprint marks, Model Fractions© is made with high-quality, matte laminated art card.
A matte finish also minimizes glare and reduces eye strain.
What You'll Get in Each Set
1 x Equivalent Fractions Wall
2 x Bar cards representing one whole
11 x Divided Fraction Bar cards representing ²⁄₂ to ¹²⁄₁₂
2 ring binders
Designed and created by Model Fractions Singapore
Free Bonuses
1. Printable Fraction Fact Wall

Improper fraction? Mixed number? Use this as a quick reference for fraction related words.
2. Printable Fraction Wall – Equivalents of 2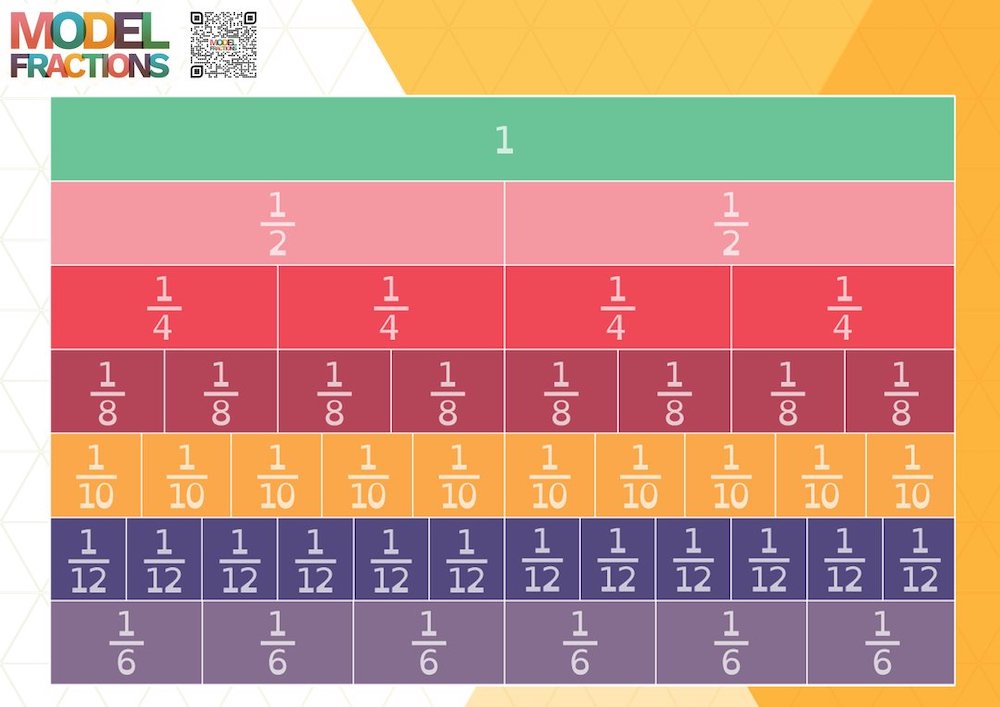 Use this as a quick reference for the equivalent fractions of denominator 2.
Explore how 1/2, 1/4, 1/8, etc. are related at a glance.
3. Printable Fraction Wall – Equivalents of 3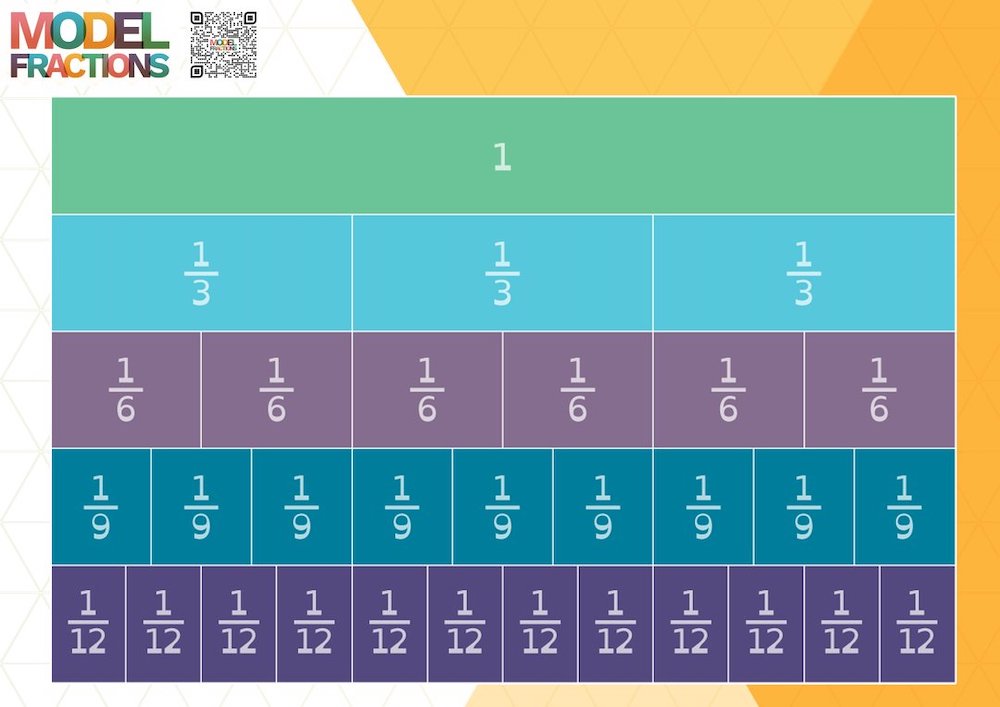 Use this as a quick reference for the equivalent fractions of denominator 3.
Explore how 1/3, 1/6, 1/9, etc. are related at a glance.
4. Printable Fraction Wall – Equivalents of 5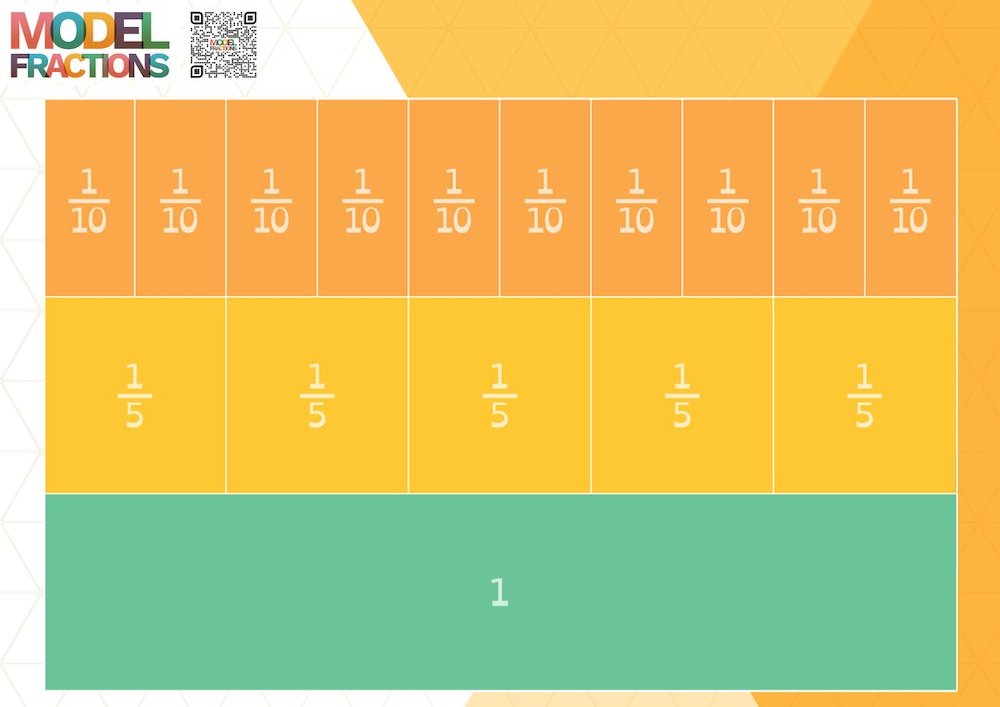 Use this as a quick reference for the equivalent fractions of denominator 5.
Explore how 1/5 and 1/10 are related at a glance.
Free Local Shipping
Singapore & West Malaysia:
Free shipping via registered mail (Yeah!)
For other countries including Australia, India, the United States, etc.:
Yes, we know you love our materials too! So here's the great news…
Affordable shipping via international registered airmail is available
Pre-Order Discount!
Model Fractions Bar Model Cards are available for pre-order from now until 25 October 2020.
Get your 10% discount by clicking "Add to cart" above.
Whilst stocks last!