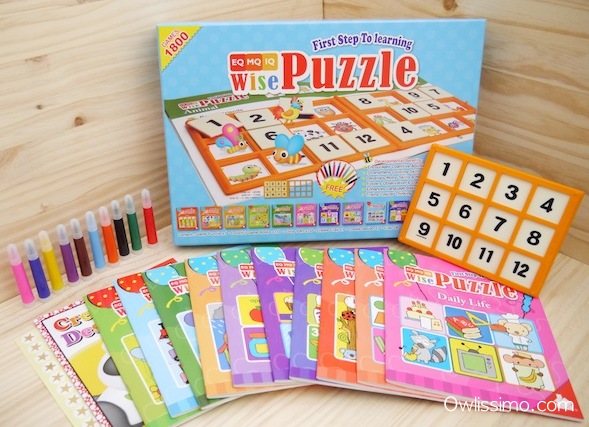 Need a fun way to let your toddler practise shapes, colours, numbers, alphabets and more?
What's here for you – SOLD OUT
Explore Wise Puzzle designed just for little hands. This is the new and enhanced version of Noddy Funbook, which has been used in right brain classes in Singapore and Malaysia.
Suitable for:
Starting from 2 to 3 years old, to about 4 years old
It includes:
10 books
1 flip grid with 12 tiles
Topics:
1. Time
2. Shape and Colour
3. Daily Life
4. Weather
5. ABC
6. Animals
7. abc
8. Plants
9. Maths
10. Numbers and Amount
How to Play:
Step 1: Choose a book from the Wise Puzzle set
Step 2: Choose a page
Step 3: Lay the flip grid with the tiles arranged from 1 to 12
Step 4: Refer to the example at the top of the left hand page. Lift up tile #1 (on the left hand page) and find the corresponding answer on the right hand page. Fit the tile onto the grid.
Continue working until tile #12.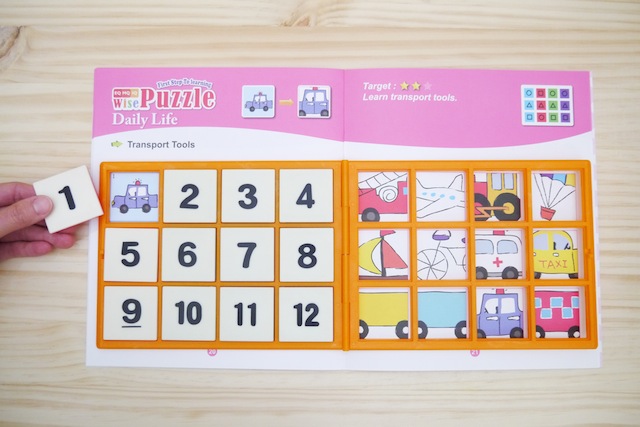 This is what the completed activity looks like: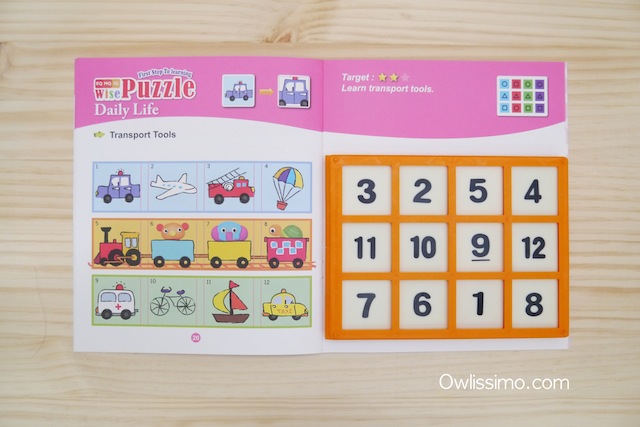 Step 5: Close the flip grid. Flip it over. Check the colour and shape on the tiles with the answer scheme at the top right hand corner.
For tiles that don't match, flip the grid back and re-do the question.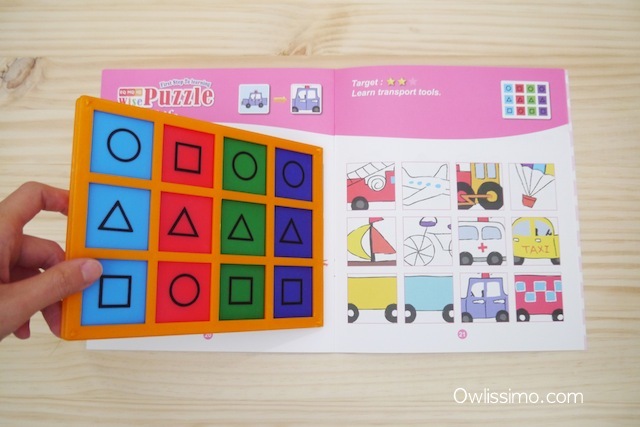 Our feedback
My eldest son, Vee, completed 2 rounds of Noddy Funbook (the older version of Wise Puzzle), from 2 to 3+ years old. Since we didn't do much structured learning then, this was an easy way for him to practise the basic concepts.
My #2, Jae, started this activity at about 3 years old and is still enjoying it.
Free Bonus
Free delivery via courier to Singapore and West Malaysia
PayPal fees absorbed
Current discounted price: S$125 (whilst stocks last)
Order now
These are ready stocks, to be sent out from Singapore and Malaysia. Very limited number of sets are available. Some units have been sold even before launch!
Orders are fulfilled on a first-paid-first-served basis. Once this batch of stock runs out, I may not replenish it if the latest cost price is too high. In case yours is a back-order, full refund would be provided.
To secure your Wise Puzzle set, click the order button below now.

How to buy
These are the easy steps:
Click the huge "Order Now" button
Enter your name, email and preferred login details. In future, you may login to Owlissimo.com to download your printables.
Click "Buy" (doesn't matter whether you've PayPal)
It's likely that the left hand side shows "current purchase" instead of the details. As long as you use the correct link / button, it should be fine. Otherwise, check your email for order confirmation later on and notify me if needed.
On the right hand side, fill up your PayPal details OR
Click "Pay with my credit or debit card" to extend the tab. Fill up payment details.
Click "Return to Owlissimo"
You'd receive an order confirmation via email. Submit your mailing details. That's it!
Get your Wise Puzzle now S$125 (whilst stocks last)

International Orders
If you're from outside Singapore and West Malaysia, click the green button below to get a shipping quote:

(Closed till further notice)
—
P.S. Wise Puzzle is amongst the easiest ways for toddlers to practise basic concepts such as numbers and alphabets.
P.P.S. After completing your order, click to return to Owlissimo.
—
Need help with your order? Contact me here.