Looking for an easy way to learn world flags?
While boosting your child's memory at the same time?
What's here for you
Check out World Flags Flash Cards:
Suitable Age Range:
Description:
Size: A5 (21cm x 14.8cm, half A4)
Number of cards: 120
Premium quality 350gsm cards
Front: picture of flag
Back:
– Name of country (English & Chinese)
– Capital (English & Chinese)
– Location of country on map
– Description of flag (Chinese)
– Continent (Chinese)
Published by Si Ke Qi Zhi Research Institute (set up by Shichida Education International to create learning materials for Shichida China)
How to Use:
Flash the cards at 1 to 2 cards per second
After a flash card session, play a few "Which One" games with the child.
Note: If you need to learn exactly how to use flash cards correctly, you may wish to attend my Home Practice Intensive Workshop
Close Up View (Front of Flash Card):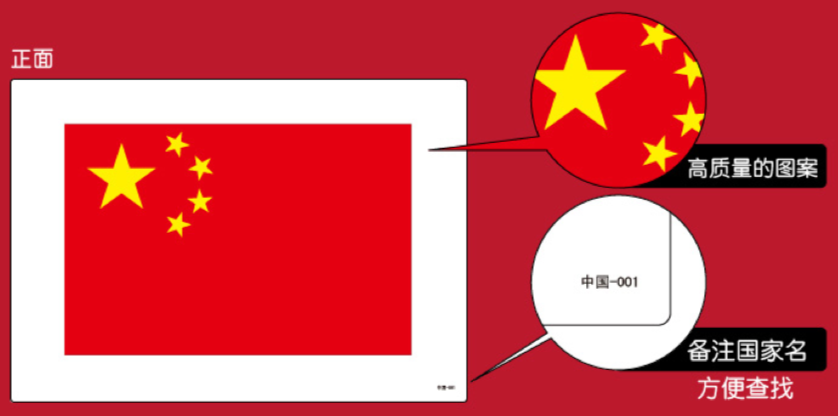 Clear printing with a small serial number at the corner
Close Up View (Back of Flash Card):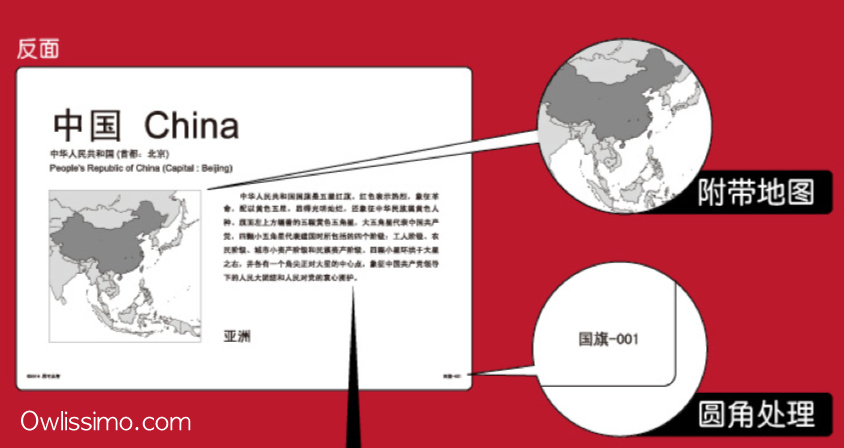 Includes the name of country (English & Chinese), capital (English & Chinese), location of country on map, description of flag (Chinese) and continent (Chinese).
I've translated the continent names into English. Simply log in to your Owlissimo account upon purchase.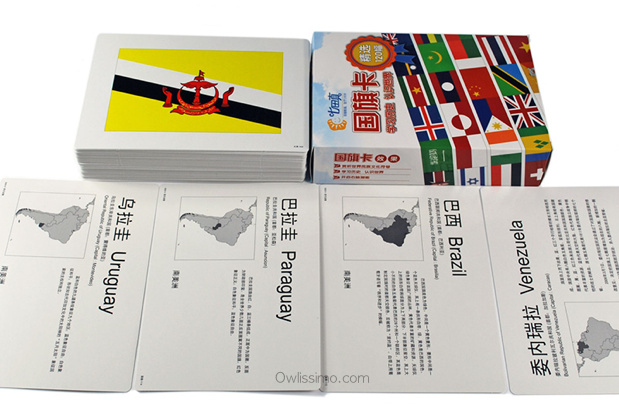 Our feedback
My older boys, Vee (6 years old) and Jae (3 years old), loved watching these cards and sort of "gobbled" them up over 2 weeks. I would flash the cards to them (by continents), play "Which One" games, flip over to point out the location, and mention the name in Chinese.
We also compared world flags that looked similar, for instance, Singapore and Indonesia.
We also referred to our large world map poster and globe to find the countries.
I then printed some Montessori 3-part cards for them to match the country names to the corresponding flags. (You'd also see this link in your Owlissimo account upon purchase.)
Free Bonuses
English step-by-step guide on how to flash cards and play "Which One" games (downloadable upon purchase)
"Received the parcel with many thanks, me and my son like it so much. And also thank you so much for all the useful information from mummy's homeschool club. — Mummy E. Lee, from Malaysia
Order now
(Warehouse Clearance Item)
These are ready stocks, to be sent out from Singapore and Malaysia. Very limited number of sets are available.
International Orders – Closed
To order, just click the "Add to cart" button now.
—
Testimonial
"You have been such a great blessing to the mummies who are interested in right-brain training. Thank you for all your sharing. Looking forward to more great things to come."
—
P.S. These World Flags Flash Cards are for families who are into geography and travel.