Wish to help your child remember addition facts in an easy way?
With complete understanding?
When his memory and recitation skills are the most powerful?
What's here for you
Here's Owlissimo's Addition Printable Flash Cards designed with you in mind:
Dot cards from +1 (1+1 to 9+1) to +10 (1+10 to 9+10), with answers as dots. 180 pages.
Equation & answer in numeral cards to be printed behind each dot card. 180 pages.
All random dots: dots have been arranged from scratch to ensure that patterns on cards are unique
Montessori colour-coded: the colour of dots closely follow Montessori beads for a blended programme
Ideal font: specially-designed font for children's learning materials
Lesson plan ideas: flash the cards in various interesting ways over many months
Game ideas: play games after flash card sessions for a fun time with your child
Over the years, many parents have used our Addition Printable Flash Cards.
Our founder, Carol, has flashed Addition flash cards to her three children since they were babies or toddlers. At around 5 years old, they could do simple mental addition with ease and progressed well to Montessori Math, Singapore Math and eventually Math Olympiad.
"Mummy, addition is very easy. I can see the dots in my mind." – 5-year old Vee
Designed for impact
1. The right size
When printed on A5 cards, each dot is designed to be 1cm in diameter. Just the right size to be seen by young children.
The dots are also carefully spaced out.
With a maximum of 19 dots, these cards can be printed on A5 cards. Saving precious resources and space.
2. Montessori colour code
In this updated version of Addition Printable Flash Cards, the dots closely follow the colours of Montessori beads.
This complements any Montessori Math activities that you may do with your child.
The exception is that yellow (for 3) has been replaced with light orange because yellow cannot be seen clearly against the white background when flashed at high speed.
3. The ideal font – Owl Handwriting 7
For years, we were been unable to find the "perfect" font for creating learning materials for our children.
Finally, we've created our own font — Owl Handwriting 7! It has a straight "1" and straight "9", exactly how we teach our children to write.
This font has been edited numerous times based on feedback from our children.
Why 7? Because we're such perfectionists that this is the 7th version before it's published!
Free Bonus
You'll also receive Pattern Dot Printable Flash Cards (0 to 100) for free…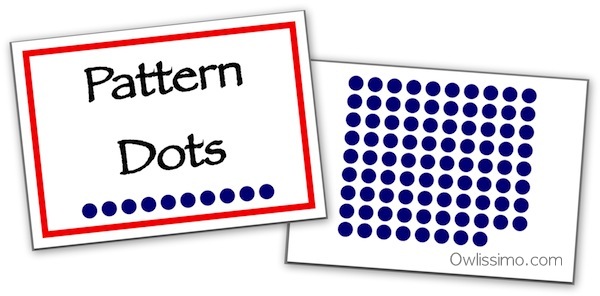 With all the above included, the printable is at only S$3.98!
To order, just click the "Add to cart" button now.
—
P.S. This is amongst the easiest and most economical ways to introduce addition to babies as young as 2 months old.