A few days ago, you identified what's in your way of teaching your child Chinese to your child.
It's likely that you already feel that Chinese is harder to master than English.
I totally agree with you.
There's no phonetic system to learn the characters.
There are thousands of characters with varying tones.
There are characters that have different pronunciations and meanings depending on the situation.
No wonder many adults and children say that "Chinese is sooooo difficult!"
As Dr. Maria Montessori observed, pronunciation is best picked up and corrected by around 2 years old.
If this true for the phonetic Italian language (Montessori's from Italy), it is even more true for Chinese with all its subtleties.
Let's take stock of the situation:
1. Chinese is a challenging language to learn.
2. Our children live in the age of the Internet where English is the common language. Think Youtube, Facebook, Instagram and many more.
3. Perhaps English (or another language) is your first language at home.
4. Perhaps your child is attending or going to attend a school where English is the first language.
The above factors mean that exposing our children to Chinese in the earliest days is the best strategy for mastering it.
The best time to start is today.
How do we start today?
EASIEST START
Over more than 10 years of homeschooling, I've taught my children a wide range of subjects.
These include Malay language, piano, violin and music theory, which I knew next to nothing about when I first started.
The interesting thing is you don't need to know a lot to teach a young child.
You just need to know a bit more than your child.
As adults, it's easy to know a bit more than your young child in the beginning.
So here it is:
Allocate 5 minutes a day to using Chinese with your child with the basic that you already know.
He can be a newborn baby who can't talk, a toddler who refuses to reply in Chinese or an older child.
You can be a new or relatively fluent speaker.
It's all ok and the opening strategy is still the same.
The key word here is "a day", which means every day, rain or shine.
Consistency is the key to building a new habit.
And since children thrive on routine and predictability, this usually works very well.
"What do I do in that 5 minutes?"
It's up to you to decide.
Decide on the "activity" that you'll like to do while speaking Chinese.
No, I don't mean an Instagrammable activity.
How many busy parents have time for that?!?
For the easiest head start, we're talking about ZERO prep time.
Just choose something among:
playtime
brushing your kid's teeth
bathing your kid
eating breakfast together
snack time together
naptime / bedtime
anything else you like
It needs to be so simple that you can do it for 5 minutes every day, rain or shine.
It's so simple that all you need to do is take the first step to speak Chinese through that chosen activity.
HOW TO START
For example, if you choose brushing teeth:
"来,宝贝,刷牙了。
Lái, bǎobèi, shuāyále.
(Come, baby, brush teeth.)
我们来刷刷牙。
Wǒmen lái shuā shuāyá.
(Let's brush teeth.)
开嘴巴,啊… 对了。
Kāi zuǐbā, a… Duìle.
(Open your mouth, ah… That's right.)
洗刷刷洗刷刷,洗刷刷洗刷刷。
Xǐshuā shuā xǐshuā shuā, xǐshuā shuā xǐshuā shuā.
(Wash-y, brush-y, wash-y, brush-y)
漱漱口…
Shù shù kǒu
(Rinse your mouth.)
好了!干净的牙齿。"
Hǎole! Gānjìng de yáchǐ.
(Done! Clean teeth.)
That's it.
When you don't know what to say, simply describe what your child is doing or what you're doing.
What if your child speaks to you in English (or your current family language)?
It's expected and perfectly ok.
As you use actions, expressions, holding relevant objects as you talk, your child will comprehend and get into the routine some day.
You can make connections such as
"对了,brush teeth 就是刷牙。我们每天都刷牙。"
Duìle, brush teeth jiùshì shuāyá. Wǒmen měitiān dōu shuāyá.
(That's right, brush teeth is shuāyá. We brush teeth every day.)
If you're already using some Chinese at home, that's great.
Simply be consistent and gradually increase the exposure by 5 minutes until you have a more balanced exposure of both languages.
Implementation
Free Download #1 – Language Exposure Template
You may review the language exposure for each language in your family.
Here's a sample image of how to use the template. In our family, it's very fluid and changes over time, so just take it with a pinch of salt.
It's only a sample: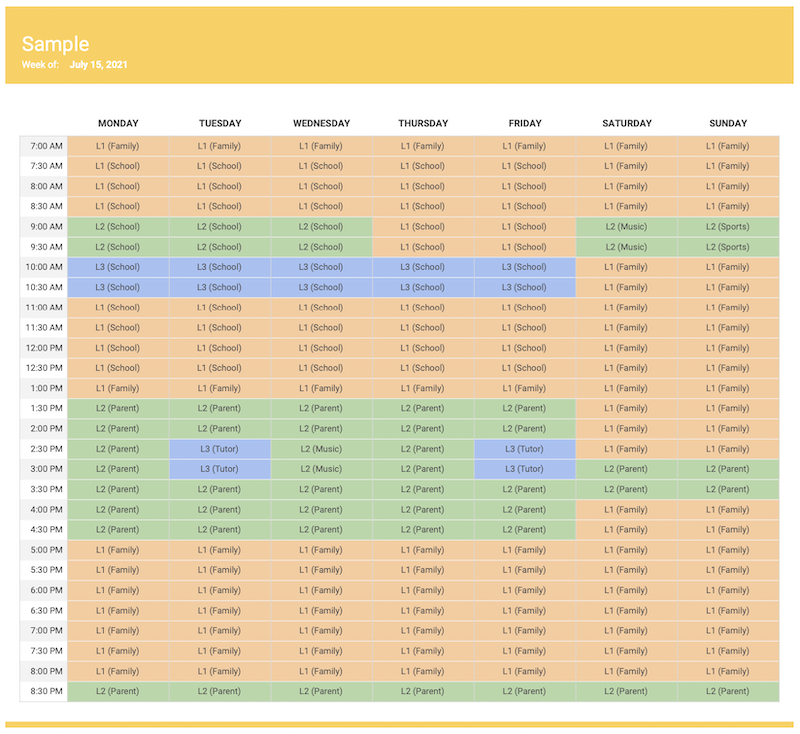 Download the spreadsheet template here:
Free Download #2
Download the journal below to note down your 5-minute activity. Click the orange button: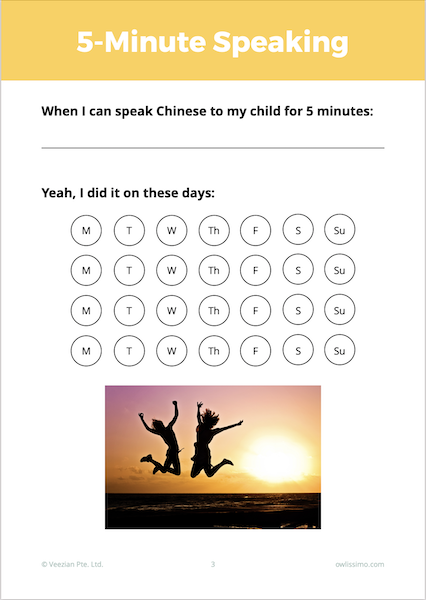 Do it over the next few days and let me know how it goes.
~ Carol @ Owlissimo.com
---
Quick review:
Why
Obstacle
Speak
P.S.
I'm managing my children's trilingual learning journey in English, Chinese and Malay, which means I also face big challenges and am always taking small steps for progress.
Teaching and learning is a long journey that needs to be sustained.
The most effective is taking the first baby step today and making it a habit.
Look out for another super-simple step in the next email.