How has your experience been speaking 5 minutes more of Chinese at home?
If it feels a bit awkward at first, that's perfectly normal.
Over time, you'll feel more comfortable with it.
Learning something new requires us to step out of our comfort zone.
Let's move to the next step now…
SCATTER BOOKS
A farmer scatters seeds over a large area to optimise his harvest.
Same here, after your first steps, simply "scatter" Chinese picture or story books at home.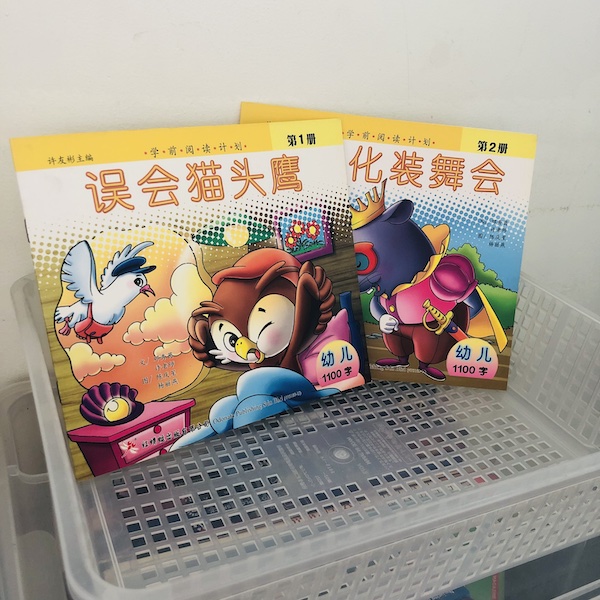 These are some strategic spots to consider:
board book / cloth book in the play pen
near the potty (for a toddler)
on the coffee table
on a learning shelf
on the book shelf
on the learning desk
beside the bed
in the kitchen
A 5-Minute Story
Then during a convenient time such as before naptime / bedtime, you or your child may pick one for you to read for… yes, you guessed it — 5 minutes.
If your child is in primary school, it is recommended to continue reading aloud to her too.
Reading together often involves discussion of the content, which helps the child learn more.
Scholastic's research revealed that 83% of children ages 6–14 said being read to is something they either loved or liked a lot.
Yet, only 21% of parents of kids ages 9–11 read aloud to their children 5 to 7 days a week.
A child's listening capacity is often higher than her reading capacity until 13 to 14 years old.
So as you continue reading aloud, your child can build vocabulary and background knowledge.
The key is to read something slightly above her current reading level until she doesn't need you to read to her anymore.
If you do this consistently for Chinese, her interest in the language will increase.
Developing an interest sows the seeds for deeper learning.
Here's another benefit:
As you gradually review the characters you've learnt before, you'll feel more confident guiding your child.
Small successes lead to more successes.
Implementation
Place some Chinese books in accessible spots at home and read to your child for 5 minutes a day.
Download this journal to note down your 5-minute reading routine. Click the orange button: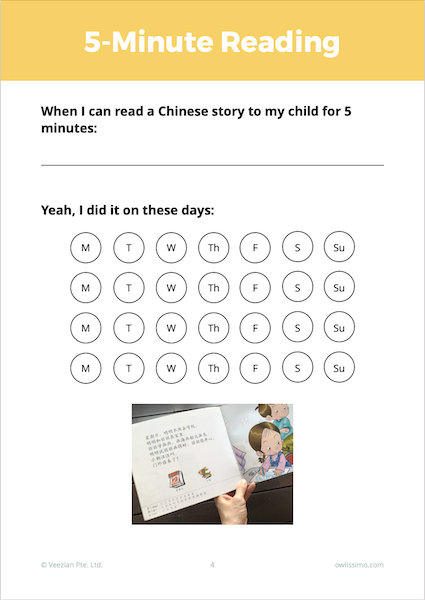 Try it for a few days until we chat again!
~ Carol @ Owlissimo.com
---
Quick review:
Why
Obstacle
Speak
Read
P.S.
I continue to read aloud to my children who are 8, 10 and 12 years old.
This is a no-prep activity that only needs good books.
Once your child shows interest in the Chinese characters in story books, you may level up.
We'll explore how to do that in the next email.