Hi, it's Carol here…
​This week, I've been reading the story of Yue Fei (a famous Chinese military general) with El (8y9m) and he enjoys it as much as I do. Two years ago, he barely recognised 50 words.​
Also two years ago, Vee bought two Chinese novels at a school book fair when he was in Primary 5. However, they were too difficult for him and had been sitting on our shelves until…
Last Saturday, he was looking for something to read, so I suggested giving these books another try.
He read the first book between activities and before bed, finishing it by Monday.
"Mummy, it's weird, this book has become simpler."
Finally, he has reached a milestone that seemed so far away two years ago.
I know that all your efforts today will reap results as your child grows.
Since regular review deepens our learning, here's a recap of the previous emails. Let's go!
Part 1: Let the learning routine set like jelly first
To see results in the long-term, consistency is key.
Parents often ask me how frequent home learning activities should be.
Starting with 1 minute every day is better than having a long session once a week.
This way, you build a routine and eventually a habit which automates the learning cycle.
Also, research has shown that frequent reviews deepen learning.
Anyone can start with 1 minute a day.
How can you improve your learning routine for Chinese?
Part 2: The Veggie Burger
To keep your child coming back for more, associate positive feelings with your lessons.
Rest assured that there is no need to intentionally create "fun" activities for your child to learn Chinese.
You, well-designed word cards and books are good enough.
Just use simple ways to associate positive feelings before (the top burger), during (the veggie) and after (the bottom burger) the lesson.
Can you think of one way for each layer of the burger?
Part 3: Just right
In motivating your child to level up, let her experience small successes with some effort.
Not too difficult, not too easy, just at the right level.
We get her into a positive learning cycle — the better she gets, the more she enjoys it and wants to learn a bit more.
Once she's a budding reader in the beginning, she reads more, comprehends more and learns more.
The strong get stronger.
Look around the materials you have at home and check if they're at the right level for your child.
Sequence of materials
I often get questions on choosing suitable reading materials. Using Odonata as an example, this is the recommended sequence:
Picture Books (Toddler books, Learn Sentences series)
(This is for a toddler or parent who is learning Chinese. If there's Hanyu Pinyin, it is for you to read aloud so that your child develops an intuitive sense of the Chinese language over time.)
↓
Systematic Reading Programme (Pre-2020 or 2020 Edition flashcards and books)
(For a busy parent, this reading programme is all you need when you and your child are ready. The book will always be at the right level for your child.)
↓
Supplementary Reading (Interactive Story Books)
(These books are added practice for the core reading programme.)
↓
Bridging Books (Little Rabbit and Little Professor series)
(Some coloured pages and illustrations. With or without Hanyu Pinyin.)
↓
Novels
(Black/white pages with minimal or no illustration. No Hanyu Pinyin. Major milestone reached!)
New Odonata releases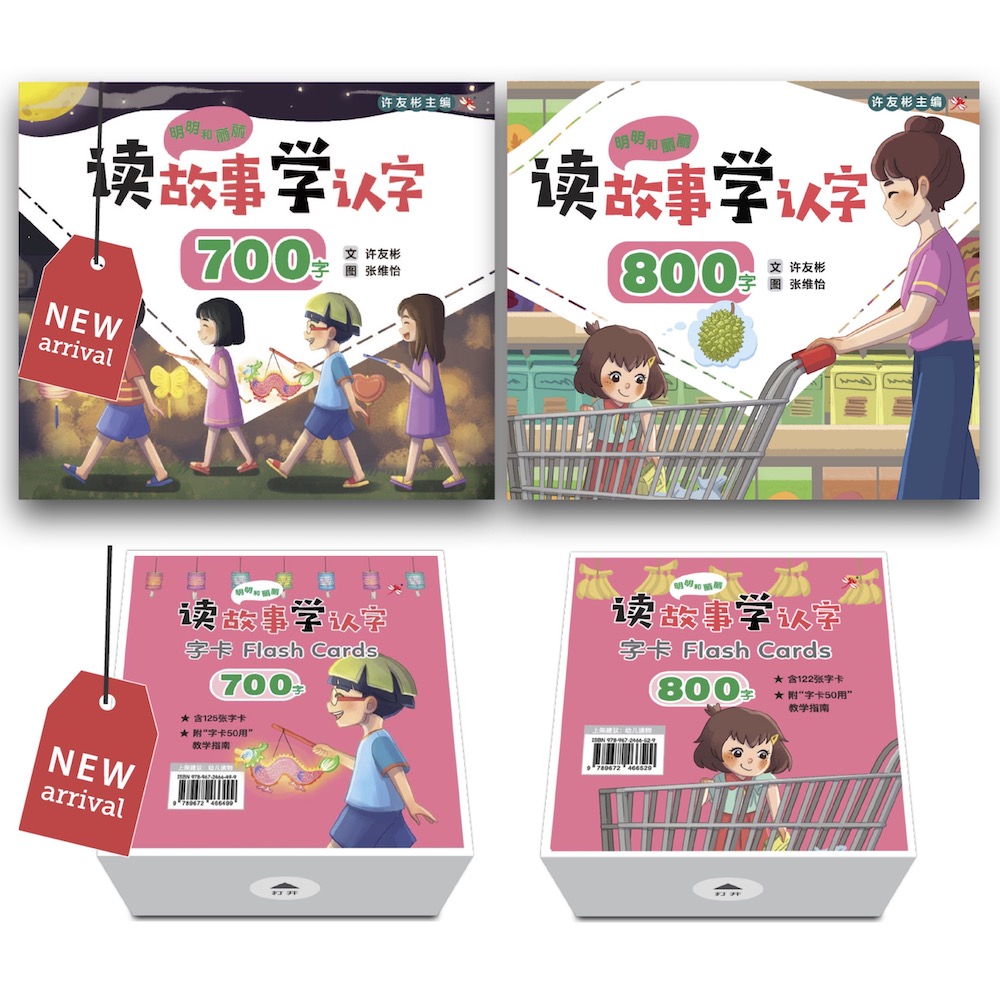 Now for the exciting news! Odonata Chinese 2020 edition 700 and 800 words flashcards and books have been released and are in stock.
If you already have the earlier materials, simply get the new Super Saver Sets to extend your Odonata collection.
Thank you to all of you who requested to order even before I launched them!
Pre-2020 Edition flashcards for 700 and 800 words were out of print and are now available as printable PDF here and here.
​Odonata Learn Sentences, Interactive Story Books, Workbooks, and Bridging Books are all open for pre-order.
If you need help choosing suitable materials, click "Reply" as usual.
~ Carol @ Owlissimo.com
​
P.S.
If you're staying in Malaysia, you may refer to the local retail prices on this page. Drop me a chat message to get the password for exclusive access.